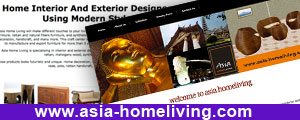 Asia Home Living will make different touches to your living space with its natural collection such as modern indoor furniture, rattan and natural fibers furniture, and synthetic rattan for all weather furniture, outdoor decoration, home decoration, handicraft, and many more. This craft center is located in Central Java - Indonesia and has experienced to manufacture and export furniture for more than 5 years with main market in Europe and United States.
Asia Home Living is specializing in interior and exterior design using best material quality, such as; teak wood, rattan, mahogany wood, synthetic rattan, bamboo, etc.
Those products looks futuristic and unique. Home decoration, outdoor decoration, art decoration, basket, bowl, lamp, vase, pots, rattan handicraft, rattan furniture, etc.
Many products, many choices here!! The unique blend of the good material choice with modern touch and rich of arts and culture, proudly present furniture and craft products at reasonable and cheap prices. Finds great things here and brings some differences to your lifestyle.