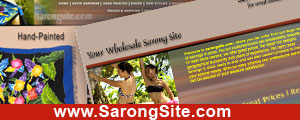 We supply the best variety of sarongs at a very reasonable price. Our customers are usually wholesalers, importers or retail stores with multiple locations. With over 14 years of experience, an international standard of quality control plus our satisfaction assurance, you can be sure your orders will be handled with reliability and professionalism. Since most of our sarongs are in ready stock, we have quick turn around times for air freight and we are able to offer discounts for container orders. Please click on the "Prices and Shipping" link to view our detailed ordering information.
Since we specialize in the design and manufacture of handmade batik, printed and hand painted sarongs, we are interested in your ideas. As all markets differ greatly, we look forward to working with you to develop your unique line of sarongs. We can help you with choosing colors, designing batik stamps and hang tags. If there are specific sarongs and even garments which you do not see in our website, let us know because we have years of experience sourcing new and interesting items.
If you have any questions, please email us by clicking the Inquiry Form above and our staff will contact you as soon as possible to handle all your inquiries and needs. Again, thanks for visiting us and we look forward to hearing from you.